Voxel File Windows Explorer Thumbnails
Free MagicaVoxel and Qubicle Thumbnail Viewer for Windows File Explorer.
MagicaVoxel .vox file thumbnails in Windows Explorer
Qubicle .qb/.qbcl file thumbnails in Windows Explorer
Ambient Occlusion for extra depth
Windows installer for easy setup
Free and open source (MIT Licensed)
Source code available at https://github.com/Arlorean/Voxels.

Let me know if you find it useful. Thanks.
Updated to v1.5 which included support for MagicaVoxel 0.99+ file format with multiple voxel models with transforms in a single scene.
Install instructions
Download and run Voxels.Setup.exe.
NOTE: If thumbnails aren't appearing you may need to clear your thumbnail cache and possibly reboot. Run Disk Clean-up in Windows to do this: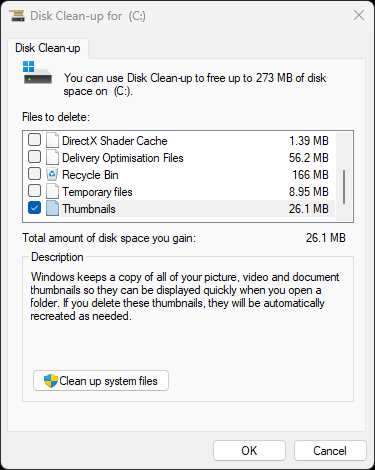 Comments
Log in with itch.io to leave a comment.
Very helpful! Thank you so much :D
thank you, this is so helpful
This is awesome, thank you! One thing though, it looks like multiple matrices don't show up in the thumbnails - one of the matrices is chosen and that's what the screenshot looks like.
Thanks for the feedback. I'll take a look at that. It's a new MagicaVoxel feature that I've not added support for yet. Glad you find it useful.
It's been a long time coming but now in V1.5 multiple models with matrices are now supported. The two cars animating is the example that ships with MagicaVoxel.